The 2017 Practical Gift Guide For Skiers & Snowboarders
Not sure what to buy the skier or snowboarder in your life? Don't worry, we've got you covered. We know how hard it can be to come up with gift ideas, so we've done the hard work for you.
You're welcome.
This gift guide includes useful and practical gifts for skiers and snowboarders. As much as any skier or snowboarder would love a new jacket or boots or goggles, these items are very much a personal choice and really need to be tried on to make sure they fit...and look the biz!
We think these gifts will please any skier or snowboarder; and for all of our family and friends - well...hint, hint if you know what I mean!
Base Layers
Good quality base layers are essential. They should be lightweight, warm and comfortable. A good thermal base layer should be versatile enough to take you from the mountain, to out on the town and into bed.
Icebreaker Merino Base Layers
Icebreaker was the pioneer in merino wool clothing. Merino is super lightweight, soft, non-itchy, non-clammy, warm in the cold and cool in the heat, and has a miraculous ability to resist odour. I have had my Icebreaker leggings for over 5 years and they still look and feel brand new. I wear them pretty much every day I am out on the mountain.
Another very high quality merino wool product, Mons Royale produces technical gear which is also super stylish. It's a huge brand over in New Zealand but is rapidly breaking into international markets. Anyone wearing Mons Royale immediately gets rad mountain cred and so will you for buying it.
We discovered LeBent earlier this year and have to say, I am finding any excuse to wear my base layer top. Like, all the time. Made from a merino and bamboo blend, the fabric is incredibly soft and totally luxurious to wear.
And doesn't Mick just look so dreamy wearing it? It's because he's feeling luxurious! He's going to kill me for writing that!
Socks
You can't just wear any socks skiing and snowboarding. No really, you can't. The right socks are really important. You want to make sure they are comfy, have moisture wicking properties, don't have seams that will rub and irritate inside your boot and won't bunch up, ending down around your ankles. Here's our favourites.
It's true, we're fans of the Icebreaker brand. We've known people who swear that these socks will never smell and have gone for very long periods of wearing them without washing. I'm not really up for that challenge, but I can confirm after a day of snowboarding in spring conditions, your feet will still be dry and stink free! The best part about these socks, (well in fact all Icebreaker socks) is that they come with a 100% lifetime guarantee. That's a big deal! So if you ever get a hole in your sock, you can take it back to any store that stocks Icebreaker socks and they'll give you a new pair. True story, Mick did it!
Stance socks are both functional and totally rad! Aside from their extremely cool designs, they feature:
- Flat-linked toe seams for against-the-skin comfort
- Reinforced heel and toe for added durability
- Anatomical cushion design circulates air for a breathable wear
There's just something about that bamboo and merino blend that we can't get enough of! I actually find myself wearing these socks even when I'm not snowboarding. Features include light cushioning under the foot and over the shin for comfort in these high impact areas. Bonus points for being an Australian company and they ship internationally too.
Gadgets
These two gadgets are always in our pockets or backpacks when we go snowboarding, they are our must have items.
It's a horrible thought that anyone would steal a snowboard or skis, but it does happen. Skis and snowboards aren't cheap items and usually there is an emotional attachment too, so if we are going to rack our gear for a while for lunch or to check out the shops, then we always lock up our boards using this cable lock. Small and light enough to fit in your pocket.
This little baby is used on the regular and has come in soooo handy over the years. There is nothing worse than finding that your binding has come loose or deciding that you want to change your settings a little and not being able find a screwdriver. This zip tool is light and fits in your pocket but is strong enough to adjust and tighten your gear. Great for travelling - it's all that we carry to set up and adjust our bindings and it has lasted years!
Ok, we're a little biased but we think these hoodies are the bomb! They are super comfy and warm. Made by Amerian Apparel in California from 100% extra soft ring-spun combed cotton.
Not only will you look rad, but you'll be showing your support for our blog as well and we'd be super grateful.
Ski or Snowboard DVD
Give that skier or snowboarder in your life some inspiration and get them a snowboarding or skiing DVD. Watch it with them and you might find that you'll want to give skiing or snowboarding a go! Aside from getting them pumped for their next trip, most ski and snowboard DVD's will include some magnificent, drool worthy scenery too.
There are so many amazing DVD's available so I suggest checking out the reviews. We've always been fans of Travis Rice movies which are about snowboarding as well as anything by Warren Miller which is mainly about skiing. But there are so many others worth checking out - from documentaries to park rat edits.
Hydration
Staying hydrated on the mountain can be difficult. When the conditions are good, the last thing we want to do is head into the lodge for a drink. Plus when the temps are cold, it's easy to forget to keep hydrating. Here's a couple of great options for staying hydrated.
I've used a few different hydration pack brands in my time and still find Camelbak to be the best and most durable. This little guy is small enough to fit neatly and discreetly under a ski jacket. The bonus is that the tubes won't freeze from the cold as body temp keeps it warm enough. Just carry enough water to get you through the day. I have tried the 'winter' tubes on the outside and they still froze!
Vapur Collapsible Water Bottle
An ingenius idea - the collapsible and reusable water bottle. Fill it up, stick it in your pocket and roll it up once you have finished drinking. Having that weight in your pocket is an added incentive to drink all that water too!
Features include:
- 100% Made in the USA
- Super Cap--Flip Cap. Tough Seal. Easy Open.
- Ultra Durable BPA-Free 3-Ply Material. Dishwasher Safe.
- Foldable, portable and flexible. Reusable and Freezeable.
- Wide Mouth Opening; Integrated clip keeps rolled bottles pocket friendly.
Action Camera
It didn't happen unless it was on film right?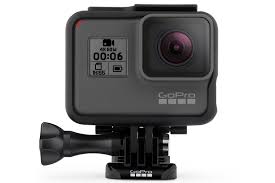 There are a lot of different action cameras on the market, but we're fans of the GoPro. The GoPro is small, lightweight and great for the snow. There's also loads of set up options as well so you can helmet mount, chest mount or use a stick/gimbal. The latest models have insanely good resolution both in video and photo. Super easy to connect to your smartphone so you can get your footage and up on Instagram and Facebook stat!
I hope that this guide helps you find the perfect gift for the skier or snowboarder in your life. Would you add anything to this list? Let me know in the comments below!
Cheers
Jen
Save this for later on Pinterest!
Jen Q
Jen spends most of her time following Mick around the mountain, often unintentionally off jumps and cliff drops. Currently on a mission to prove that you're never too old to try freestyle. Aside from snowboarding, a little obsessed about tattoos, CrossFit, saving animals, learning to play the guitar and clean eating. Web designer and digital marketing nerd.