Natural Sun Protection In The Snow
This post was originally posted on the 14 October 2017 and updated on the 10th February 2019
You're out on the mountain skiing or snowboarding and it's a gorgeous bluebird day. You're wearing thermals and ski gear - after all, it's the middle of winter. Getting sunburnt is the last thing on your mind.
It's so easy to forget about sun protection in the snow. Until of course, it is too late and suddenly you look like you have aged 70 years and your skin is peeling off you like a shedding snake. And even though you like the mountain cred of a google tan, the damage just ain't worth it.
What most people don't realise, is that sun exposure when you're skiing and snowboarding is way higher than hanging out at the beach. UV is way more intense because the atmosphere is thinner at higher altitudes. Even on a cloudy day. UV radiation intensity increases by about 10–12% for every 1000 metre increase in altitude. Snow is also highly reflective (more than water) and can reflect up to 90% of UV radiation on that bluebird day. That's double exposure! We don't often sit on the beach for an entire day but we do often ski and snowboard from the first chair to last. That is a LOT of sun exposure.
I love to keep things as close to nature as possible, and I believe that getting sun exposure is a good thing. Vitamin D for our health is very important! But there is a happy medium and that also means protecting your skin if you are planning to spend a good amount of time out skiing and snowboarding.
Here are my top tips for natural sun protection in the snow!
Hydration
Hydration is not coffee, tea, beer or wine - as much as I would love it to be! It's good old water and I am totally guilty of snowboarding in a dehydrated state. Often we'll have early starts, so it's coffee, breakfast and up to the mountain we go. If it is an epically good day, then bathroom breaks are pretty much nil, and besides, there's nothing to pee out anyway.
Sunburn can cause a process called vasodilation, where your blood vessels dilate and you lose water from your skin very quickly, leading to dehydration. Dehydration can also affect your performance and endurance which is just another reason to keep drinking water!
Most ski resorts have taps or water fountains in the lodge but I never find that I drink enough water that way. And again, there's that stopping thing which almost never happens on a powder day. What I try to do most of the time is to carry my water with me.
I have a Camelbak very similar to this which is lightweight, compact and fits under my jacket. I barely know it is there. Fitting under the jacket is important for a couple of reasons:
You don't look weird. I like that it is discreet.
Your water won't melt. I've had snow covers on the tube and the water inside it has still frozen when it has been outside of my jacket.
If you have decent sized pockets, there are a bunch of foldable water bottlesavailable now. They slip into your pocket and when you have finished, you can fold them up so that they take up a minimal amount of space.
I am not a fan of using plastic due to the chemicals that may leach into the water, so at the very least look for BPA free products or even better, food grade silicone.
Sunscreen
I don't really need to explain why sunscreen will help prevent sunburn right? But I will explain the difference between a chemical blocker sunscreen and a physical blocker sunscreen. A chemical sunscreen uses active ingredients to absorb UV radiation. They cause a chemical reaction, change UV rays into heat and then release that heat from the skin. Physical sunscreens sit on top of the skin reflect, scatter and block UV rays. The two ingredients you'll find in a physical sunscreen are Titanium Dioxide and Zinc Oxide - both naturally occurring minerals. Physical sunscreens are known to be less irritating to the skin, less pore clogging, don't contain any nasties and have a longer shelf life so they are my preference. Application is quite different to a chemical sunscreen though, so my tips are:
Buy a good brand, they are not all created equal. You'll find that some come off easily or they leave a white haze on you, not a good look especially if you have darker skin like me!

Let the cream warm up a little on your skin, it will rub in much better.

You only need a little bit. I find physical sunscreens last a lot longer because you only need to use a small amount.

Reapply. Being a physical blocker, water activities and sweating will mean that it washes away.
I have tried sooooo many different brands, and these three are without a doubt, my absolute favourites. They rub in well, are non-irritating, cruelty-free and are mountain tested! They are all Australian made too, which is even better!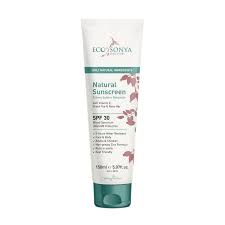 Eco Sonya Natural Sunscreen
Coming in at number one is Eco Sonya Natural Sunscreen. It is just divine! It rubs in clear, easily and isn't greasy at all. It has rose hip in it and is SPF30. For the water lovers, it is water resistant for 3 hours and reef friendly. And yep, they ship internationally.
I have been using the Moo Goo skincare brand for a very long time! Check out their story if you get a chance, it is very cool. They have full disclosure on all their ingredients (including translations for those fancy names). They have a few sunscreen products, which range from SPF 15 to SPF 40 - all apply really nicely and they totally do the job. They also offer international shipping which is a bonus.
Summit Balm Undercover Zinc
Summit Balm is a pretty new company but their products rock and they are specifically made for alpine conditions. Their Summit Balm (lip balm) is my all-time favourite and their Undercover Zinc sunscreen uses mineral clay which reduces the white tint you may get with traditional zinc sunscreens. Both products contain less than 6 ingredients which you will not only be able to pronounce, but that you will have heard of. Their sunscreen is suited more to alpine conditions, being such a natural product, it will turn to liquid in the heat. Check with them for where they can ship, they were selling out over the season so I'm sure their distribution network is on the increase.
Cover up with a face mask or neck protector
One of the best ways to protect your skin during winter is to reduce exposure to the sun. When we are skiing and snowboarding, we are generally covered up everywhere except our faces. Covering up using a face mask or neck protector is probably the best protection you can have from the UV rays. I have this Mons Royale neck warmer which I absolutely love - it's made from Merino wool and is soft, breathable, moisture wicking and odour resistant. Mons Royale make very high quality gear so the investment is worth it, they'll last you a very long time.
When it gets a bit colder, a neck warmer or face mask is an essential. Not only will it keep you warm but it will protect you from the sun, because remember, you can still get sunburnt on super cold days! I have trouble snowboarding with face masks because they feel suffocating to me but then I came across the brand Airhole which totally changed my life! They have some very cool designs and different styles so you can go wacky or plain but they all feature an airhole which will allow air to flow in and out, reducing condensation at the same time. I have the snow tiger one which gets a lot of laughs on the mountain.
So there you go. Simple really. Drink water, slap on sunscreen and cover up! Remember, UV radiation is intense when you are skiing and snowboarding so follow these three steps so that you can spend more time on the mountain.
Do you have any more natural sun protection tips for alpine conditions? Let me know in the comments below!
Jen
Save this for later on Pinterest!
Jen Q
Jen spends most of her time following Mick around the mountain, often unintentionally off jumps and cliff drops. Currently on a mission to prove that you're never too old to try freestyle. Aside from snowboarding, a little obsessed about tattoos, CrossFit, saving animals, learning to play the guitar and clean eating. Web designer and digital marketing nerd.